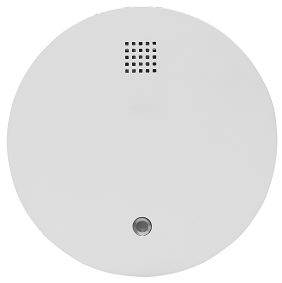 Optical smoke, combo smoke / CO alarms and CO alarm with back-up battery and wireless interface
The MD369 is an Alarm that contains Smoke and Carbon Monoxide detection. Equipped with a universal switching power module, it can be used to fit wide- range of AC power from 110V up to 240V. It is also designed with a 3V non-rechargeable lithium battery as a back- up power source in case of AC power failure. The universal switching power module has a fan-out current up to 1200 mA in order to drive all kinds of the radio modules, such as GSM, WiFi, ZigBee and any other type of Sub-1GHz.
The MD369 is supplied with a mounting plate with switching power module that allows a very quick and simple installation.
EVERDAY provides UART protocol to help clients fulfill their need. The protocol offers simple enrolling process via test button, which allows two- way communication by sending RF command to MD369 or access information from MD369.
EVERDAY provides not only full considered service, but also flexible and reliable design for you.
Features and Benefits
Serve as smoke, CO or combo smoke / CO alarm
Smoke & CO with Self- diagnostic sensor test
Low power consumption
Test/Hush button
Tamper-proof in the event of AC power failure
Extra room to add customer's RF module
Meet with UL217 /UL2034 and EN14604/ EN50291 Standard
Meet with LVD & RoHS/REACH
The cooperative smoke & Co sensing algorithm for fire alarm signal, meet with UL217 8th edition to avoid the false alarm
Algorithm for sensitivity drift compensation
(Optional) voice alert when events trigger
Everday protocol with UART Interface
IoT / Smart Home, Home Security Applications
Definition of the Model Name
| | |
| --- | --- |
| Smoke Alarm | MD369S |
| CO Alarm | MD369C |
| Combo Smoke & CO Alarm | MD369CS |
PS: The voice function is an option for all models
MD369S Specification
Model
MD369S
Description
Smoke Alarm
Rating Voltage
110~240V AC, 50~60Hz
DC Fan Out
5V, 1.2A
Operating Temperature
-10°C~50°C
Operating Humidity
10%~90%
Start Current
20 mA
Alarm Current
Alarm Current
Back-up Battery
3 VDC lithium battery
Sound Level
85dB/3m
Sensitivity Specifications
Smoke Sensitivity range
EN14604
EN14604
MD369C Specification
Model
MD369C
Description
CO Alarm
Rating Voltage
110~240V AC, 50~60Hz
DC Fan Out
5V,1.2A
Operating Temperature
-10°C~50°C
Operating Humidity
10%~90%
Start Current
20 mA
Alarm Current
120 mA(max.)
Back-up Battery
3 VDC lithium battery
Sound Level
85dB/3m
Sensitivity Specifications
CO Sensitivity range
EN50291
UL2034
MD369CS Specification
Model
MD369CS
Description
Combo Smoke/ CO Alarm
Rating Voltage
110~240V AC, 50~60Hz
DC Fan Out
5V, 1.2A
Operating Temperature
-10°C~50°C
Operating Humidity
10%~90%
Start Current
20mA
Alarm Current
120 mA(max.)
Back-up Battery
3 VDC lithium battery
Sound Level
85dB/3m
Sensitivity Specifications
Smoke Sensitivity range
CO Sensitivity range
EN14604
UL217
EN50291
UL2034