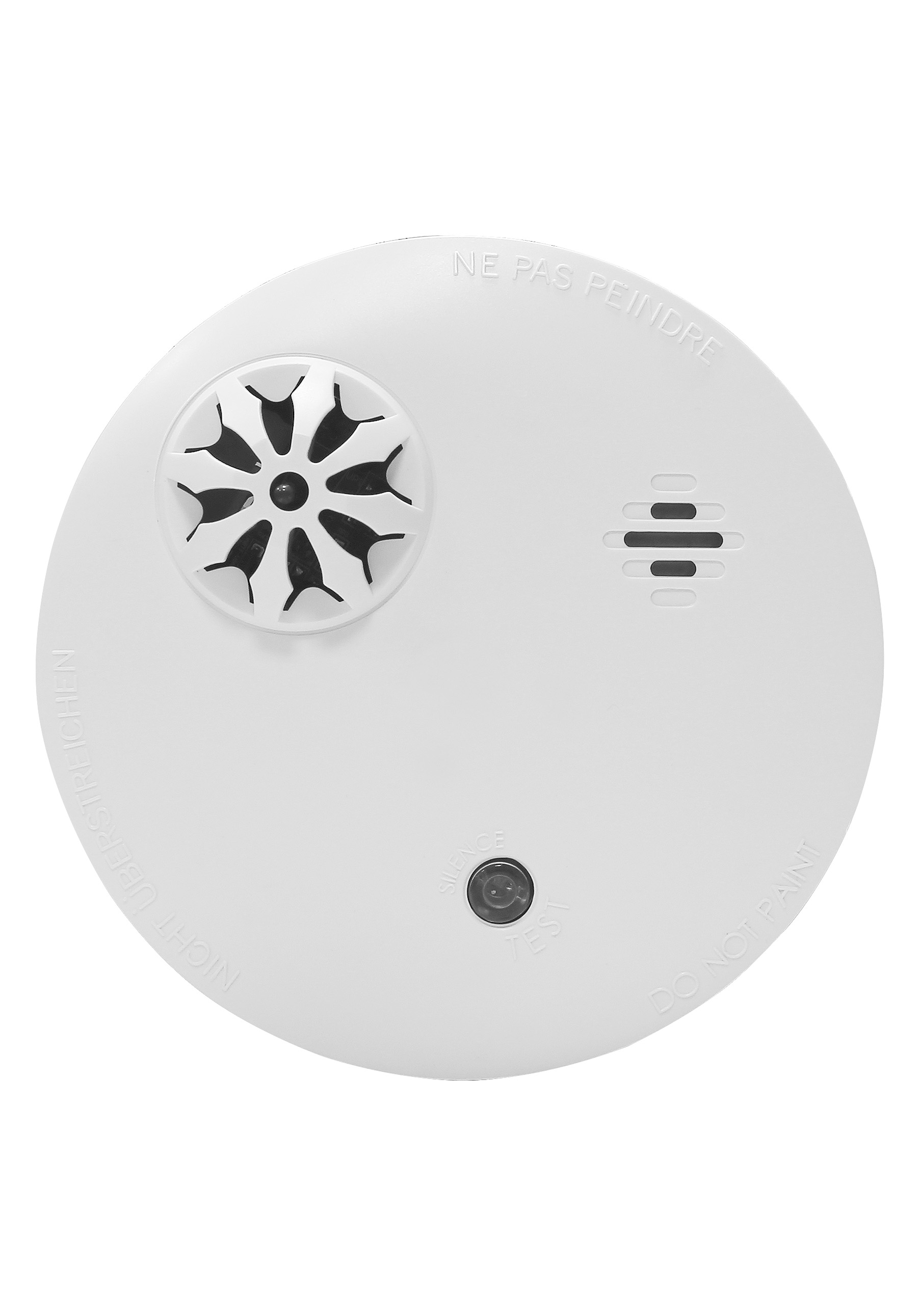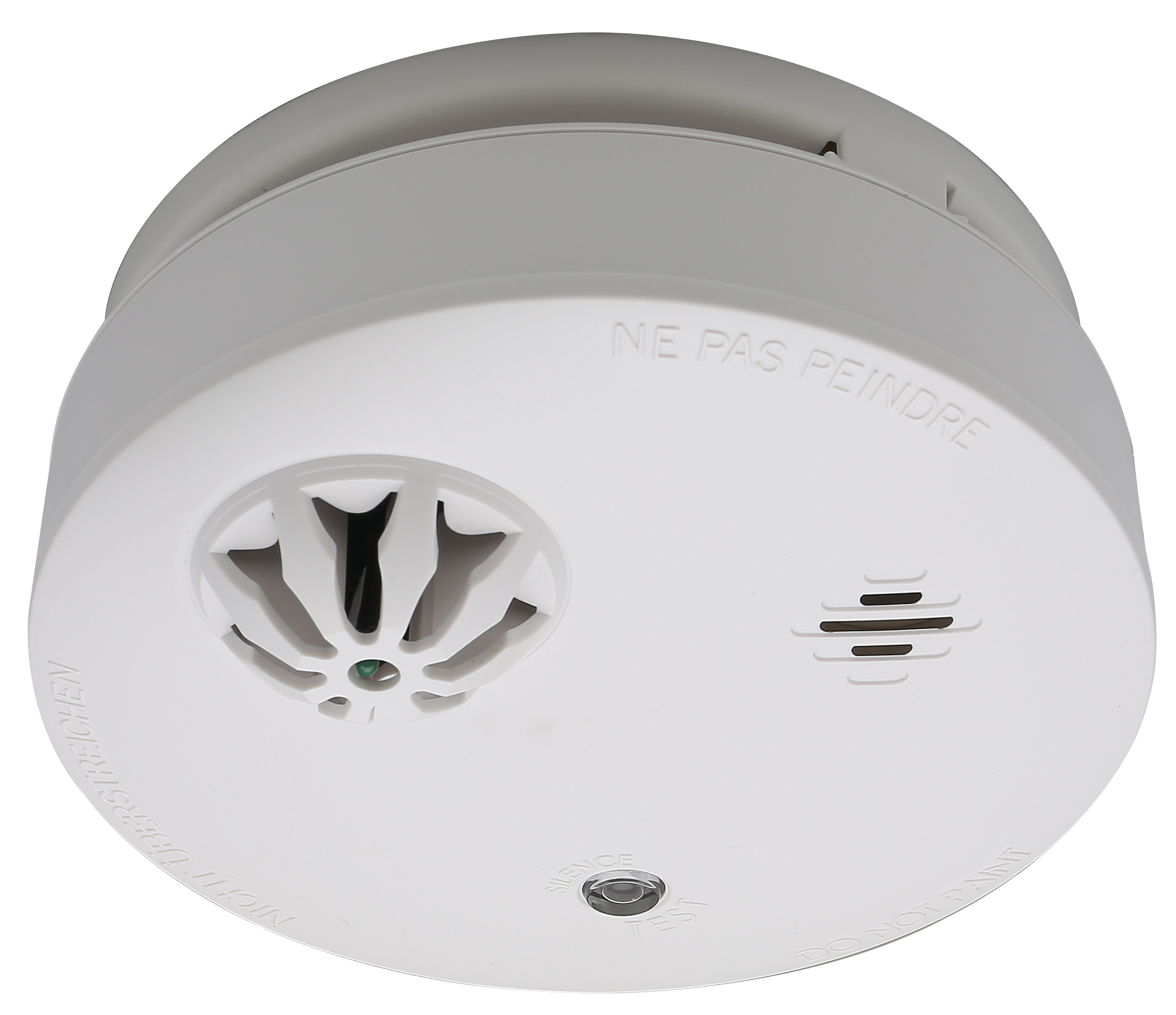 MD368 optical smoke alarm is designed to meet the needs of applications of radio linked operating systems. Not only the alarm offers aesthetically appealing design but also comes with UART output to be integrated with RF module. The MD368 series can either serve as a smoke or smoke / heat combo alarm, or serve merely as heat alarm. MD368 has a 10-year lithium battery option.
Approvals
EN14604 / UL217
Definition of The Model Name
| | |
| --- | --- |
| Smoke only | MD368S, MD368ST (10 year type) |
| Heat only | MD368H, MD368HT (10 year type) |
| Combo smoke and heat | MD368SH, MD368SHT (10 year type) |
Features and Benefits
Optical smoke detector.
With optional heat detection.
Self- diagnostic sensor test.
Low power consumption.
Low battery warning signal.
Temperature compensation.
Analogue sensitivity and battery capacity level output.
Some functions ( Test key, LED or Buzzer )can be utilized by RF via UART interface.
4 PIN connector connecting for RF board.
Capable of connecting with operating system control panel.
IoT / Smart Home, Home Security Applications.
Definition of The Model Name
Smoke only : MD368S, MD368ST (10-year type)
Heat only : MD368H, MD368HT (10-year type)
Combo smoke and heat : MD368SH, MD368SHT (10-year type)
Detector w/UART interface available for wireless system and IOT application:
Model Name

BatteryType

Battery Life

Panasonic CR123A Lithium 3.0V * 1 (replaceable)

Energizer L91 Lithium 1.5V AA * 2 (fixed, non-replaceable)

Additional Panasonic Lithium CR123A 3.0V *1 for RF module use (replaceable)

Additional Panasonic Lithium CR123A 3.0V *1 for RF module use (replaceable)

MD368SB1

for detector & RF module use

1.2 years

MD368STB3

for detector use

V

D: 10 years RF: 1.2 years

MD368HB1

for detector & RF module use

1.2 years

MD368HTB3

for detector use

V

D: 10 years RF: 1.2 years

MD368SHB1

for detector & RF module use

1.2 years

MD368SHTB3

for detector use

V

D: 10 years RF: 1.2 years
MD368S Detector Specifications
Model:

MD368SB1、MD368STB3

Sound Level:

85dB/3M

Description:

Optical smoke detector

Sensitivity:

Smoke: EN14604 UL217/268

Rating Voltage:

DC 3V, DC 2.6~2.7 Low voltage

Operating Temperature:

-10℃~50℃

Standby Current:

25uA

Operating Humidity:

5%~90%

Start Current:

5mA

Heat Alarm Temperature:

NA

Alarm Current:

60mA(max)

Dimensions:

120 X 52.45 mm

Sensitivity Specifications

Smoke Sensitivity range

Heat Temperature range

EN14604 0.105dB/m~0.165dB/m

UL217/268

1.8%/ft~3.5%/ft

NA

NA
MD368H Detector Specifications
Model:

MD368HB1、MD368HTB3

Sound Level:

85dB/3M

Description:

Heat detector

Sensitivity:

Heat : EN54-5, UL521

Rating Voltage:

DC 3V, DC 2.6~2.7 Low voltage

Operating Temperature:

-10℃~50℃

Standby Current:

25uA

Operating Humidity:

5%~90%

Start Current:

5mA

Heat Alarm Temperature:

FT

Alarm Current:

60mA(max)

Dimensions:

120 X 52.45 mm

Sensitivity Specifications

Smoke Sensitivity range

Heat Temperature range

NA

NA

EN54-5

FT:A2S

Refer to annex-Table 1

UL521

Temperature Rating:

At Ordinary

Refer to annex-Table2
MD368SH Detector Specifications
Model:

MD368SHB1、MD368SHTB3

Sound Level:

85dB/3M

Description:

Optical smoke detector

Heat detector

Sensitivity:

Smoke: EN14604 UL217/268

Heat : EN54-5, UL521

Rating Voltage:

DC 3V, DC 2.6~2.7 Low voltage

Operating Temperature:

-10℃~50℃

Standby Current:

25uA

Operating Humidity:

5%~90%

Start Current:

5mA

Heat Alarm Temperature:

FT

Alarm Current:

60mA(max)

Dimensions:

120 X 52.45 mm

Sensitivity Specifications

Smoke Sensitivity range

Heat Temperature range

EN14604 0.105dB/m~0.165dB/m

UL217/268

1.8%/ft~3.5%/ft

EN54-5

FT:A2S

Refer to annex-Table 1

UL521

Temperature Rating:

At Ordinary

Refer to annex-Table2
Table 1 . EN54-5 Respone time limits
Rate of rise of air temperature

Class A2 detector response time

Lower limit

Upper limit

(OC/min)

min

s

min

s

1

29

0

46

0
Table 2 . UL539 Temperature classifications
Temperature classification

Ordinary

Operating temperature limit

Minimum

Maximum

OF

OC

OF

OC

128

53.3

165

73.9